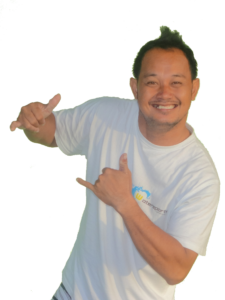 Damien and I decided to team up and help the village of Hilisaloo during my 2011 trip to the famously perfect wave at Lagundri Bay, Nias. One day Damo (as I call him) spontaneously mentioned that he wished he could do something for the village, which is poor for the area, being removed from the paved roads and the bustling town of Teluk Delam. (Surfers will know the village as the one you walk through after the long dirt road on the way to "the left"). Agreeing that I'd contribute funds while he'd contribute time, we wound up building a lovely water tank, with Damo doing a great job of coordinating the whole thing after I went back to the states. For photos and details, click here.
I've gotten to know Damien pretty well during the almost three months total (over three different trips) that I've stayed at his losman at Lagundri. (For the link to the losman, click here; it was built with the generous support of American Mark Arico, who met Damien years ago when he worked on a surf charter).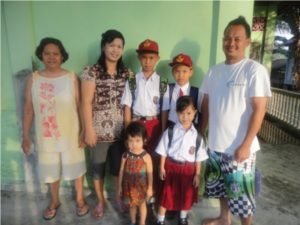 Damo is a great guy: warm, good-natured, and reliable. He laughs regularly, even as he often speaks solemnly of his responsibilities. He has a beautiful family, with a lovely wife and four children, who live just across the street, with his brother is next door and other relatives nearby. He's originally from a nearby village, and from a family that was fortunate enough to have land on the point. While he grew up surfing too much, he has long given up surfing for family life, running the losman, teaching, working in the rice fields, among the many things he does.
Because Damo speaks good English from all the years of interacting with surfers, he's been asked to do and faithfully done a good amount of work for aid organizations working on the island. He proudly keeps the various certificates he's received in a nice (hopefully tsunami-proof) folder. He says he would love to eventually serve in government, much as his father did. He's even named after the Indonesian word for democracy ("Damien" is an English transliteration).
I was especially impressed with the way Damien handled a setback in the construction of the water tank. Heavy rains eroded a few days of digging work, in effect breaking our careful budget of materials and labor costs. The work needed to be redone, at a cost of about $500 for the additional labor. Damo immediately sold three of his pigs to cover the extra costs without asking me to compensate him, so that we wouldn't be over our agreed-upon budget. I volunteered to compensate him and we revised the budget, but was very impressed that he didn't ask to be paid back. (This despite complaints from family members who rightly wondered why he should have to pay such a huge sum when he was already giving a lot of time each day and not otherwise being paid.)
I was also impressed by Damien's deep sense of happiness when the water tank was completed and the villagers were celebrating and expressing their gratitude to Damien. In our joyous conversations, he was just brimming over, even overjoyed, about the fact that we could do good for the people (as he put it). A friend of mine (Sunny Karnani) who overheard one of the conversations on skype was impressed enough to comment days later about how deeply Damien seemed to be moved. Not that Damien didn't personally benefit, of course; his status in the community also went up. But he really did seem to be truly happy just for the sake of the people we might help.
If you'd like, you can speak to Damo directly. Just let me know and I'll give you his cell number. (There's a good cell tower on that part of the island–a benefit of post-tsunami reconstruction.) I speak with him regularly. Mornings or evenings (California time) seem to work best.